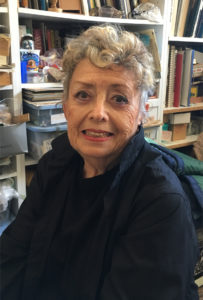 The evolution of my artwork over seven decades reflects my profound and passionate reaction to life—a reaction which induces a psychological motivation encouraging me to create art. In this age of mechanical reproduction, technological alienation, and human deterioration, responding to surrounding occurrences through my art is imperative for me as it is one way in which I stay in touch with humanity. It is my continued search for new means to self-express and challenge popular perception.
My creative appetite transcends category, subject matter, and style while examining the intersection of ideas and concepts across a variety of mediums: drawing, painting, handmade paper, sculpture, photography, and at times, mixed with intriguing elements applied for further expression.
During a trip to Japan, I worked and learned the art of handmade papermaking—'washi'—a craft that Japanese artisans have been doing for hundreds of years. This experience nurtured my passion to explore Japanese culture and aesthetics and has since become a major focus in my creative life. It inspired the creation my series of handmade paper constructions, assemblages, and geometric constructions that play with form, light, shadow and sound.
My fervor continues to grow and is so imperative, that I am always exploring my artistic outlets seeking workshops in the United States and abroad. Invariably, these nourish my creative appetite while my experiences stimulate my imagination. My artwork is shown nationally and internationally with great reception.
The in-depth examinations of my art on these pages offer a glimpse of my methodology from realism to abstraction. It is apparent that my work explodes in riotous form and gently suggests a quiet reverie as Japanese aesthetics has directly impacted my life.
After spending most of my life in New York, I now reside in Santa Barbara, California where I continue to create new and exciting work. My endeavors seek to explore the confluence between traditional process and subject matter with a contemporary sensibility, ultimately celebrating my inner creativity in the name of art.
EDUCATION
1986-1987
Doctoral Program, Museum Studies, New York University, NY
1973-1975
MA, Painting, Long Island University, Glendale, NY
1970-1973
BA, Art Education, graduated Magna Cum Laude, Long Island University, Glendale, NY

GRANTS AND AWARDS
2010
Grant, William T. Couville Foundation, Santa Barbara, CA
2005
Award, Fresno Museum, Golda Foundation, Fresno, CA

CURATED EXHIBITIONS

1984
Trenton State College, Trenton, NJ. 'Works On Paper'
1983
Trenton State College, Trenton, NJ. 'Soho Artists'
INVITATIONS
2002
Lecture, Handmade Japanese Paper, Santa Barbara Botanic Garden, Santa Barbara, CA
2001
The Hall of Awa, Handmade Papermaking Workshop, Tokushima, JA
1995
Lecture, Handmade Japanese Paper, Carnegie Museum, Oxnard CA
1979
Retreat, Mishkenot, Sha'ananim, Jerusalem, IS
1972
Retreat, Cummington School of the Arts, Cummington, MA

COMMUNITY
1995
Santa Barbara, CA. Sister City, Toba, JA
2000-2004
Santa Barbara, CA. Arts Advisory, Santa Barbara, CA
1998-2000
Santa Barbara, CA. Sign Commission, Santa Barbara, CA

CONSULTING
Hochhauser Blatter Architecture and Planning, Santa, Barbara, CA
Verona, Mixed use Complex, Oxford Street, Sydney, AU
Pismo Medical Center, Pismo, CA
Western Skies Dialysis, Casa Grande, AZ